Since the inception of the FDIC in 1933, no depositor has lost a single penny of FDIC insured funds. Since that time there have been numerous bank failures, but in every case, all FDIC insured funds have been protected and returned to their depositors. This fact alone has provided stability and confidence in the U.S. Banking system that did not exist before the FDIC was established. As a result, bank runs no longer constitute a major threat to the banking industry.
Although the FDIC has provided a strong backstop to prevent lost deposits, that doesn't mean that all deposited funds are protected. This is because FDIC coverage has always had limitations for individuals and businesses. These per-depositor, per-institution limits have changed several times throughout the history of the FDIC due to various crises, inflation and other factors. The limit currently stands at $250,000 per depositor, per institution, but how has it evolved over time?
A History of FDIC Insurance Coverage Changes
Since FDIC coverage became effective on Jan 1, 1934, the FDIC has adjusted the maximum coverage available to depositors seven times: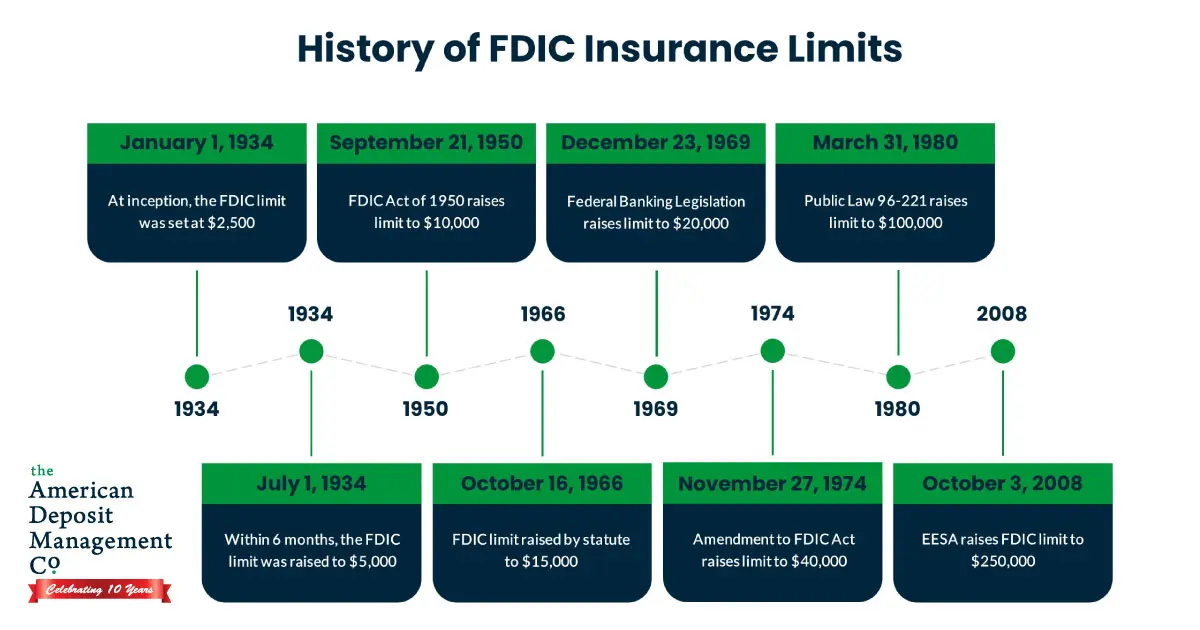 July 1934
Only six months after the creation of the FDIC, government leaders realized the initial $2,500 limit was not enough to effectively support the banking system. So, on July 1, 1934, the FDIC limit was doubled to $5,000.
September 1950
On September 21, 1950, congress passed the FDIC Act of 1950. This act revised and consolidated FDIC legislation into a single act. This act gave the FDIC authority to evaluate and lend to insured banks in danger of closing. This also impacted FDIC coverage by raising the coverage limit to $10,000.
October 1966
On October 16, 1966, the FDIC coverage limit was increased to $15,000 by statute. This was in response to a survey of deposits that indicated a higher maximum coverage amount would have protected almost 99% of depositors from recent bank failures.
December 1969
On December 23, 1969, just 3 years after the last increase, Public Law 91-151 was passed by congress "to lower interest rates and fight inflation; to help housing, small business, and employment; to increase the availability of mortgage credit; and for other purposes." This act also amended the Federal Deposit Insurance Act to increase the FDIC coverage limit to $20,000.
November 1974
Effective November 27, 1974, the Federal Deposit Insurance Act was amended to raise the FDIC coverage limits for individuals and businesses to $40,000. During the 1970's, inflation was nearing historic highs, and this was an important factor in raising this limit – just 5 years after the last increase. This doubling of coverage was the largest increase in FDIC coverage limits in history.
March 1980
On March 31, 1980, following the historically high inflation of the 1970's, another increase in FDIC coverage was implemented through the passing of Public Law 96-221. This time the increase in coverage was dramatic. The FDIC coverage limit more than doubled to $100,000, which was again the largest increase in history. This was a level it would maintain for almost 3 decades.
October 2008
During the height of panic brought on by the Great Recession, the Emergency Economic Stabilization Act (EESA) was passed which temporarily raised the FDIC coverage limit to $250,000. For the third consecutive time, this increase was the largest in history. On July 21, 2010 this increase was made permanent by the Dodd-Frank Wall Street Reform and Consumer Protection Act. The FDIC has maintained this level of insurance coverage since that time.
When will the FDIC increase coverage limits again?
As you can see from history, changes to FDIC coverage have been somewhat sporadic. In general, during times of high inflation or times of crisis, we can look for the FDIC to adjust their coverage when they deem it necessary.
In early 2020, the U.S. began experiencing the impacts of the COVID-19 pandemic. As of this writing, bank failures have not been a major problem during this crisis. However, if financial conditions begin to deteriorate and the frequency of bank failures begins to spike, the FDIC might evaluate its current limits to determine if they need an adjustment. Currently there are too many unknowns to project whether another FDIC increase may be imminent, so only time will tell.
Is it possible to get FDIC coverage in excess of the $250,000 limit?
Yes. And, this process has simplified in recent years with the advent of fintech. The most important detail to consider when you have more than $250,000 in cash that you need protected is that the limits are "per depositor, per institution." This means that you can get more coverage by having accounts at multiple FDIC insured banks.
As you can imagine, the more cash you need protected, the more banking relationships you will need to maintain. In the past, this created a great deal of additional work to monitor, manage and reconcile these accounts. Now, with the help of advanced fintech, the days of managing multiple banking relationships to achieve full FDIC protection are over.
Our company, the American Deposit Management Corporation (ADM), has leveraged our proprietary fintech and network of hundreds of banks to simplify the process of protecting your cash. With a Marketplace Banking™ account by ADM, your business can achieve virtually unlimited protection with a single deposit, a single relationship and a single consolidated statement.
Earn More, Risk Less® with Marketplace Banking™ by ADM
With your cash in a Marketplace Banking™ account, the funds are spread throughout our network of banks and credit unions to achieve full FDIC / NCUA protection. The best part is the application is simple to complete, and you get to keep your current bank. We are here to enhance your current bank, not replace it.
If this sounds like a program that could help your business manage and protect its cash, don't hesitate to reach out to a member of our team. As you will learn, our team is our secret sauce, and they are standing by to answer your questions and streamline the onboarding of your company.
To stay abreast of interest rate changes, banking industry insights and other valuable financial information, be sure to check out our Insights page and follow us on LinkedIn, Twitter and Facebook.