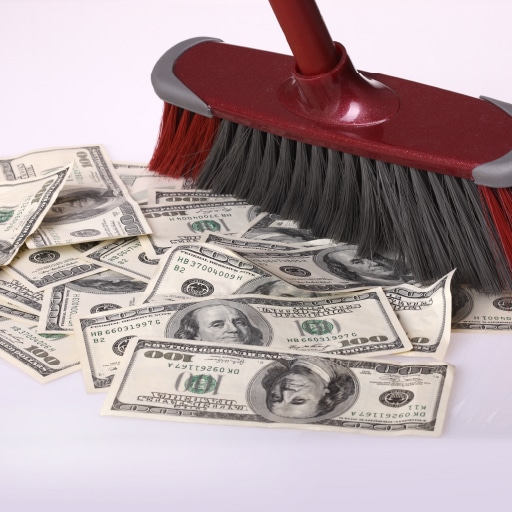 Throughout the turmoil created by the COVID-19 pandemic, cash flow and risk management strategies have proven vital to business success. During this time, supply chain difficulties, diminished foot traffic, and staffing shortages have caused many businesses to rely on their cash reserves to survive.
As a new wave of COVID-19 grips the country, and with last year's retail bankruptcies fresh in mind, corporate leaders are reevaluating their emergency plans and cash reserve strategies. After all, individuals and families are coached to keep a 3 or 6-month fund to cover their expenses in case of an emergency. Should businesses take that advice as well?
Large sums of cash create risk.
One of the major difficulties businesses face when keeping a large sum of cash is securing protection for that cash. In case of a bank failure, The FDIC guarantees up to $250k in protection per member bank, per account ownership type. However, maintaining a balance higher than this threshold can create additional risk of funds being lost if the bank holding the assets fails. While the FDIC limit of $250k may be enough to protect the cash reserves of some small and medium-sized businesses, others need much more protection.
There are a few options available to extend FDIC protection for business deposits and one of those is Insured Cash Sweep® [ICS®]. But what is ICS®? How does it work? And is there a more robust alternative?
What is ICS®?
The Insured Cash Sweep® program by IntraFi NetworkSM has been around for a while, and it allows banks to pay a fee to access a network of other banks in the FDIC network. ICS® accounts extend FDIC insurance by breaking up large cash deposits and distributing the smaller amounts to multiple banks.
Banks equipped with ICS® allow your business access to FDIC coverage above the standard $250k limit. This helps businesses achieve extended FDIC coverage for their cash without maintaining relationships with multiple banks, but there are important limitations to consider before choosing ICS®.
Limitations of ICS®
First and most importantly, banks that participate in ICS® must pay a fee. This fee is generally passed on to the customer by reducing the rate of return. In addition to the reduced return, ICS® only provides FDIC protection. It does not allow for custom deposit protection that can increase yield without sacrificing safety. Finally, there is a limit to the amount that can be protected by ICS®, and this limit is around $150 million. Conversely, other alternatives to ICS® have achieved near unlimited capacity to protect business cash.
AMMA™ is a Robust Alternative to ICS®
Advanced financial technology, or fintech for short, has disrupted traditional banking in a way that makes securing coverage for millions of dollars of cash more accessible. Our company, the American Deposit Management Co. [ADM], has developed proprietary fintech and a nationwide network of community banks that allows us to achieve unlimited protection for your cash without the limitations of ICS®. We call this concept Marketplace Banking™, and it is only available through our American Money Market Account™ [AMMA™].
AMMA™ is different because banks do not pay us fees and we pass that savings along to our clients. In addition, businesses with AMMA™ are not limited to FDIC insurance. If an alternative form of deposit protection is available that can increase the rate of return on deposits without sacrificing safety, our clients have access to that higher yield.
AMMA™ Provides a Host of Benefits to Business
With AMMA™, businesses can achieve safety for their cash with a single deposit and a single monthly statement. In addition, our nationwide network of financial institutions competes for deposits, and that ensures our clients receive nationally competitive rates.
But don't worry, AMMA™ doesn't replace your current bank – it simply enhances it. Businesses can maintain their current banking relationship while taking advantage of the benefits of AMMA™.
Most importantly, businesses no longer need to sacrifice safety for liquidity. With AMMA™, cash is fully protected and available when the need arises. AMMA™ offers up to next day liquidity and an intuitive online platform for making deposits and withdrawals. If liquidity isn't your primary concern, we can develop a CD Ladder strategy that aims to maximize return while meeting your liquidity needs.
Earn More, Risk Less® and Have Fun
Before you choose ICS®, give a member of the ADM team a call. The best part about working with us is our team. Our people are our secret sauce, and we have fun! We don't operate a call center, and you never have to worry about unreturned messages. We are eager to help your business in any way we can. Start a chat now using the box at the bottom of your screen or visit our contact page to get started.
To stay abreast of interest rate changes, banking industry insights and other valuable financial information, be sure to check out our Insights page and follow us on LinkedIn, Twitter and Facebook.